Living Off-Campus: Financial Aid & Budgeting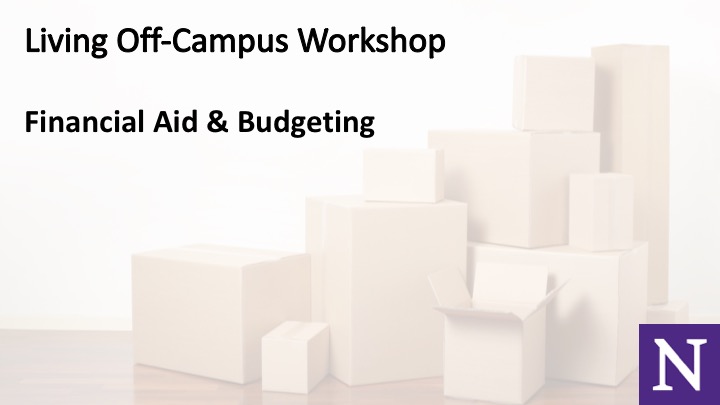 If you plan to live off-campus next year, there are a number of financial considerations for you to keep in mind. In this overview we will walk you through some of these topics in order to help you plan and to ensure you are making the best financial decision for your circumstances. Please select one of the links below to learn more about that subject.
In addition to this presentation, there are a number of free resources available that we encourage you to review.
CashCourse CashCourse is a free online financial literacy resource developed by the National Endowment for Financial Education (NEFE). CashCourse provides budgeting tools, quizzes and calculators designed to help students finance their education and plan for their futures.
Office of Off-Campus Life provides a wealth of information and resources to help you prepare for living off-campus, including researching your landlord and local standards and property codes. They also partner with an apartment search website to help you find available properties.
ASG Housing Fair Northwestern Associated Student Government (ASG) and Off-Campus Life partner to organize a housing fair in the fall and winter terms. Students can come to a centralized location to meet with prospective management companies and landlords.
Financial Aid Office If you are a financial aid recipient, it is important to make sure you complete your financial renewal application materials by the May 1 deadline. Our office can also help you prepare for living off campus by completing a billing worksheet for you once your financial aid award is available next year. This will help you with planning and budgeting.